Patios Raleigh NC
Concrete Patios Raleigh NC
Your Concrete Patio Contractor in Raleigh NC.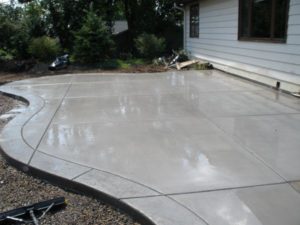 Triangle Concrete installs concrete patios. If you're installing a new concrete patio, extending an existing patio or need concrete repairs we are here to help. Your concrete patio is meant to be enjoyed and a place to relax or entertain. If you're installing a new concrete patio or repairs to an existing patio, we can provide you with design options for your patio project that are both attractive and functional.
We have completed many patio projects over the years, any where from standard concrete patios to decorative concrete patios. A decorative concrete patio can rage from stamped concrete, color concrete, exposed aggregate, masonry inlays such flagstones or bricks and more.
As your concrete patio contractor in the Triangle we provide many services to help you through your project.
Concrete Patios Raleigh NC
Concrete sidewalks are very common pathways along roads for pedestrians in any town or city. We have been asked to install new, replace, and repair many sidewalks to city standards. Some municipal and county areas have decorative concrete sidewalks such as mini bricks, decorative patterns, or decorative concrete.
If it's new construction of natural gray or decorative concrete, or if you need maintenance due to heat buckling, lifting and cracking from tree roots or even if your concrete is just worn out from old age, contact Triangle Concrete for a free estimate.
Concrete Patios Raleigh NC
From smooth flatwork to stamped patterns and intricate decals, we deliver high quality outdoor concrete work for your commercial or residential location, whether it's a patio, walkway, pool surround or path.
Call Triangle Concrete Today For A No Obligation Quote! We'll Earn Your Business (919) 348-2269